Jamboree 2012
Langvad Chamber Music Jamboree 2012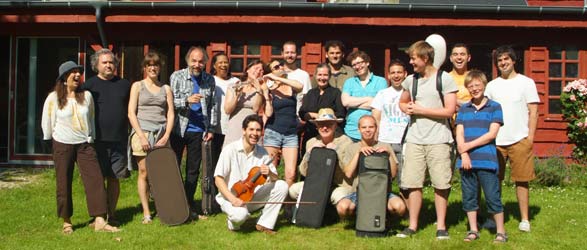 Langvad Chamber Music Jamboree 2012
Welcome to this year's Langvad Chamber Music Jamboree.  Our 2012 vintage is loosely based on French music and two wind instruments – the flute and the clarinet.  We are lucky to have two young star exponents of these instruments in Diego Aceña Moreno and Sacha Rattle and they will play signature works by Mozart and Weber.  But from the French school we have music by Duruflé, Ravel, Fauré, Debussy, Saint-Saëns and Messiaen.  Familiar will be the string quartets of Debussy and Ravel; less familiar but no less extraordinary will be the works of Duruflé and Fauré, whilst Messiaen's incredible vision from the book of Revelation, his transcendent "Quatuor pour la fin du temps" will always astonish listeners whether they be familiar with the music or not.
There is too a nice American slant with music by Gershwin and Korngold, though the latter's rich early Sextet pre-dates his rise to fame as the pioneer of those great Hollywood film scores.
We welcome back too two dear composer friends who should now be as familiar to Jamboree audiences as they are to many of the players; movements from Eleanor Alberga's dance suite "Dancing with the Shadow" will again show the composer's lucid and atmospheric colours while the premiere of Marius Ungureanu's "Monk" will be a fitting adventure in sound and theatre to close the event.
Tom Bowes
Wonderful music with:
Flute: Diego Aceña Moreno (Spain)
Clarinet: Sacha Rattle (Great Britain)
Violin: Cathy Thompson (Great Britain); Nuno Carapina (Portugal); Peter Steensgaard (Denmark); Thomas (Tom) Bowes (Great Britain); Bálint Várray (Hungary)
Viola: Mina Luka Fred (Sweden); Johannes Gürth (Austria); Marius Ungureanu (Romania)
Cello: Caroline Dale (Great Britain); Jonathan Algott Swensen (Denmark) António Novais (Portugal)
Piano: Eleanor Alberga (Jamaica); Verona Maier (Romania)
Download: Programme
About: The Monk